Don't Over Pay Call US Power Pros TODAY! For All Your Electrical & Generator NEEDS! Registered Federal Electrical Contractor
P3000 PowerSmart Series™ Inverter Generator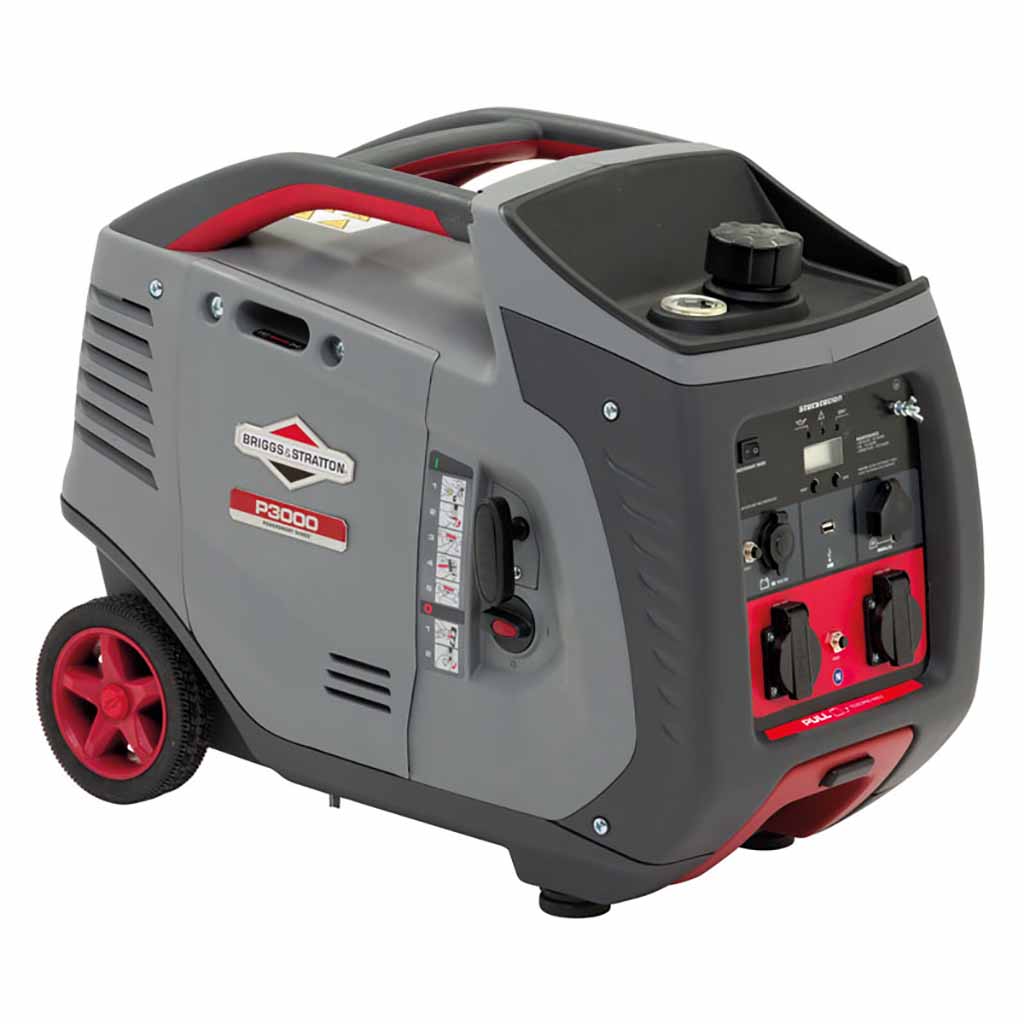 P3000 PowerSmart Series™ Inverter Generator
Quiet portable power for sensitive equipment.
Safe for Sensitive Electronics
The inverter technology produces smoother power. This means you can safely recharge and power your sensitive electronics such as laptops, smartphones and gaming systems.
Quiet Power Technology
Automatically adjusts engine speed based on the items you're powering. Quiet Power Technology further reduces noise, fuel consumption and emissions.
Multiple Outlets for Your Power Needs
Two 230V household sockets, one 12V DC charging outlet and one 5V USB port offer enough flexibility to power an extensive combination of lights, laptops, blenders, personal electronics and more.
Easy Mobility
A unique twin handle design and luggage-style telescoping handle make mobility a breeze.
Designed for Camping
The lightweight design and quiet generator operation makes this the best backup power solution for camping and outdoor recreation.
Quiet Portable Generator
At 58dB operating volume, this portable generator is quieter than a normal conversation. In other words, it blends into the background of social situations.
LCD Statstation™ Display
The easy-to-read LCD screen shows the amount of power being used. It also displays the total unit hours and maintenance reminders, including oil, air filter, and spark plug changes.
Parallel Connector Port
A dedicated parallel outlet lets you connect two units together for even more power – perfect for RVs with airconditioning units. Parallel connector kit is sold separately.
Model Number
030674(P3000 EU)
Outlets
2x 230V / 16 Amp, 1x 12V / 5 Amp DC Charging outlet, 1x USB
Engine Configuration
4-stroke OHV
Fuel Tank Capacity (l)
5,6
Automatic Low Oil Shut Down
Yes
Transport Handle
Telescopic handle, rear back handle, integrated wheels
Consumer Warranty (product) 5
2 Years Limited
1 Starting Watts is the maximum current that can momentarily be supplied when starting a motor, multiplied by the generator's rated voltage.
2 Per EN ISO 8528-13:2016
3 Sound levels may vary based on proximity and location; measured at 25% load at 7 meters from control panel side.
4 Run time at 25% load
5 See Operator's Manual for complete warranty details.