Don't Over Pay Call US Power Pros TODAY! For All Your Electrical & Generator NEEDS! Registered Federal Electrical Contractor
P4500 PowerSmart Series™ Inverter Generator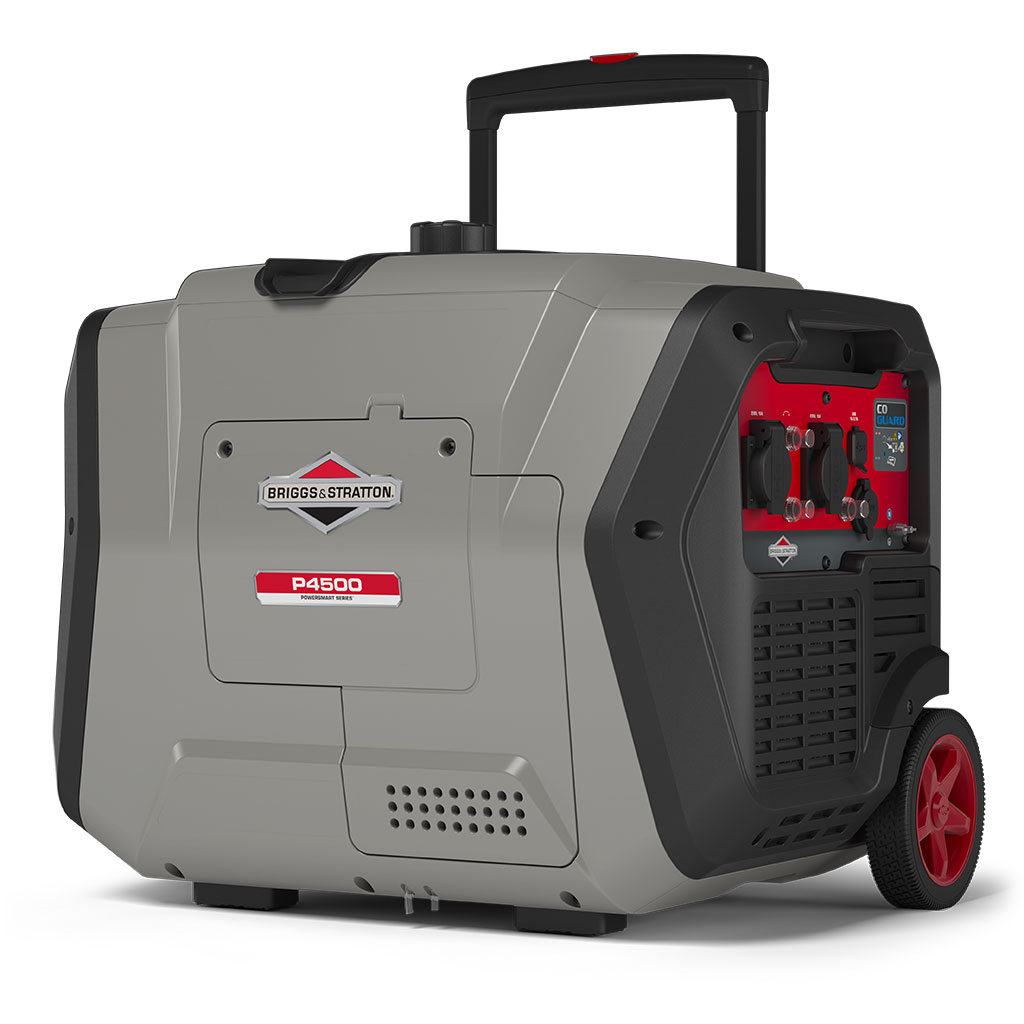 P4500 PowerSmart Series™ Inverter Generator
Quiet portable power for sensitive equipment.
Safe for Sensitive Electronics
The inverter technology produces smoother power. This means you can safely recharge and power your sensitive electronics such as laptops, smartphones and gaming systems.
Multiple Outlets for Your Power Needs
Two 230V household sockets, one 12V DC charging outlet, and two 5V USB port offer enough flexibility to power an extensive combination of lights, laptops, blenders, personal electronics and more.
CO Guard™ Carbon Monoxide Shutdown
Advanced Detection. Added Protection. This patent-pending technology shuts down your generator when harmful levels of carbon monoxide accumulate in the generator's operating area.
Remote Start & Shutdown
Conveniently start your portable generator or turn it off remotely with a key fob.
Quiet Power Technology
Automatically adjusts engine speed based on the items you're powering. Quiet Power Technology further reduces noise, fuel consumption and emissions.
Easy Mobility
The luggage-style telescoping handle and integrated wheels make mobility a breeze.
Electric Start
Start the engine quickly and easily by pushing the button.
Model Number
030806(P4500 EU)
Outlets
2x 230V / 16 Amp, 1x 12V / 5 Amp DC Charging outlet, 2x USB
Engine Configuration
4-stroke OHV
Automatic Low Oil Shut Down
Yes
Transport Handle
Telescopic handle, side handles, integrated wheels
Consumer Warranty (product) 5
3 Years Limited
1 Starting Watts is the maximum current that can momentarily be supplied when starting a motor, multiplied by the generator's rated voltage.
2 Per EN ISO 8528-13:2016
3 Sound levels may vary based on proximity and location; measured at 25% load at 7 meters from control panel side.
4 Run time at 25% load
5 See Operator's Manual for complete warranty details.