Don't Over Pay Call US Power Pros TODAY! For All Your Electrical & Generator NEEDS! Registered Federal Electrical Contractor
Elite 8500EA Portable Petrol Generator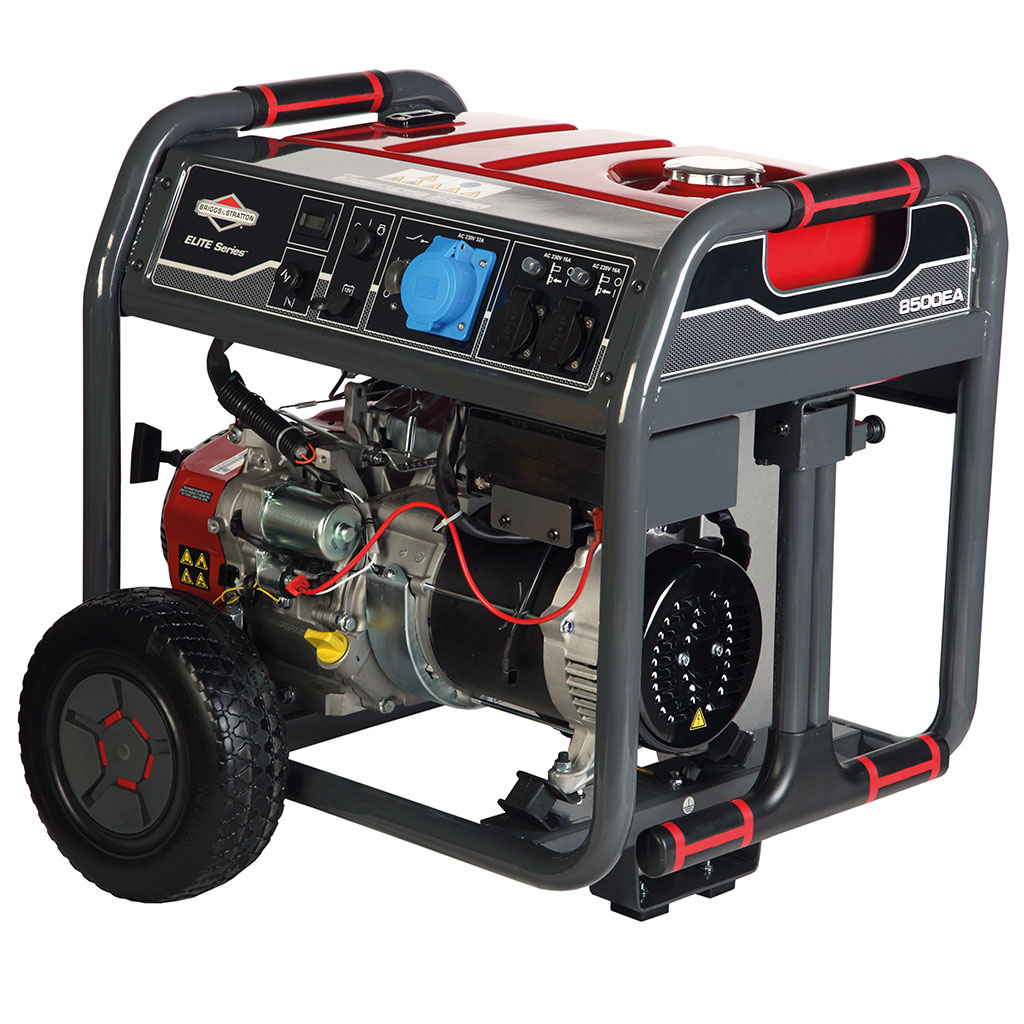 Elite 8500EA Portable Petrol Generator
Power for added convenience.
Automatic Voltage Regulator (AVR)
Automatic Voltage Regulators (AVR) within the system prevent power surges to protect all your electronic equipment. Limits the variation of the voltage of your generator to + or – 2% to keep your equipment running smoothly and safely.
Automatic Low-Oil Shutdown
Your engine will stop if the oil level is low, preventing expensive damage to the engine.
Briggs & Stratton® Engine
The Briggs & Stratton 2100 Series™ engine with electric key start delivers the precise amount of power and performance needed.
Power Surge™ Alternator
The Power Surge™ alternator smoothly produces a short surge of power needed for motor-driven items. Large household appliances and tools are started simultaneously.
Heavy-Duty Frame
Protects the generator and easy to transport.
Transport Kit
This generator is standard equipped with two wheels and a folding T-bar, making transport easier.
Outlets
2x 230V / 16 Amp, 1x 230V / 32 Amp
Starter
Electric Start – Key
Engine Brand
Briggs & Stratton
Engine Series
2100 Series™ I/C® OHV
Alternator
Power Surge™ / AVR
Automatic Low Oil Shut Down
Yes
Frame Tube Diameter (mm)
38.0
Transport Handle
Wheelkit and a folding T-bar handle included
Consumer Warranty (product) 5
1 Year Limited
Consumer Warranty (engine) 5
2 Years Limited
CE Compliant
Non-CE Compliant
1 Starting Watts is the maximum current that can momentarily be supplied when starting a motor, multiplied by the generator's rated voltage.
2 Per EN ISO 8528-13:2016
4 Run time at 25% load
5 See Operator's Manual for complete warranty details.