Don't Over Pay Call US Power Pros TODAY! For All Your Electrical & Generator NEEDS! Registered Federal Electrical Contractor
Model #RG04845
STARTING AT
$16,939.00
MSRP
GENERAC PROTECTOR 48KW STANDBY GENERATOR
Looking to back up your entire home or commercial business? Consider the Protector Series gaseous automatic backup generator line. These units power all appliances, electronics, pumps and motors during power outages, allowing you to continue living life comfortably and keeping business operating without interruption.

 What Makes the Protector Series Such a Great Choice?
The Generac 4.5L is a purpose-built engine designed from the ground up by Generac and made in Wisconsin. Generac is one of the only manufacturers to design & produce a complete generator which includes our own engine, alternator, fuel system, controller and enclosure in the U.S.

Generac's 22kW to 150kW product packs more power into a smaller footprint – ideal when space is a premium.  The neutral styling, color and small footprint fits unobtrusively into landscaping.
 
The Generac 4.5L engine intensifies best-in-industry performance and reliability.  The purpose-built engine is at the heart of a new generator designed from the ground up by Generac and made in Wisconsin, USA. Generac is one of the few manufacturers producing a complete generator – engine, alternator and controller.
Generac Designed & Built Engine – Generac Designed & Built Engine Purpose-built exclusively for generators, in Wisconsin, USA*. Utilizes the first in class, dual-valve ultra-low pressure fuel delivery system and intelligent proprietary engine controls that manage over 100 performance functions to ensure peak efficiency in all temperature ranges and elevations. The engine consumes 25% less fuel than previous engines, is capable of operating at the lowest fuel pressure in the industry at 3.5" of water column while still providing excellent motor starting capability. *Assembled in the USA using domestic and foreign parts.
True Power™ Technology – Delivers utility-grade power quality with less than 5% total harmonic distortion (THD) for clean, smooth operation of sensitive electronics and appliances.  Generac controlling its high-efficiency alternator design and production insures industry-leading surge protection, performance, and longevity.

Small Footprint – Generac liquid-cooled product packs more power into the smallest footprint – ideal when space is a premium. The neutral styling, color and small footprint fits unobtrusively into landscaping.

Smart, User-Friendly Controls – Generac's Evolution™ Controller is visible and accessible without opening the generator enclosure. The Evolution Controller features a multilingual LCD display that allows users to monitor and track maintenance intervals to ensure your generator is always in top operating condition.
18" Offset –​ Generators Can Be Installed Just 18" From A Structure – ideal for tight lot lines or other space constraints.
Tough, Durable All-Aluminum Enclosures – Our RhinoCoat™ powder-coated finish helps make corrosion-resistant aluminum perfect for all weather conditions. Protector units are shielded from the inside out – a durable coating protects the internal frame from rust.

Quiet-Test™ Self-Test Mode – runs at a lower, quieter RPM for a five or twelve minute test, to ensure the system is running properly while consuming less fuel. Quiet-Test Self-Test mode can be programmed to run weekly, bi-weekly, or monthly.

Mobile Link™ Connectivity – Comes standard with all Protector Series generators. Mobile Link allows you to monitor the status of your generator from anywhere in the world using a smartphone, tablet or PC. Easily access information, such as the current operating status and the generator's maintenance schedule. Connect your account to an authorized service dealer for fast, friendly and convenient assistance. With Mobile Link, your generator is taken care of before the next outage.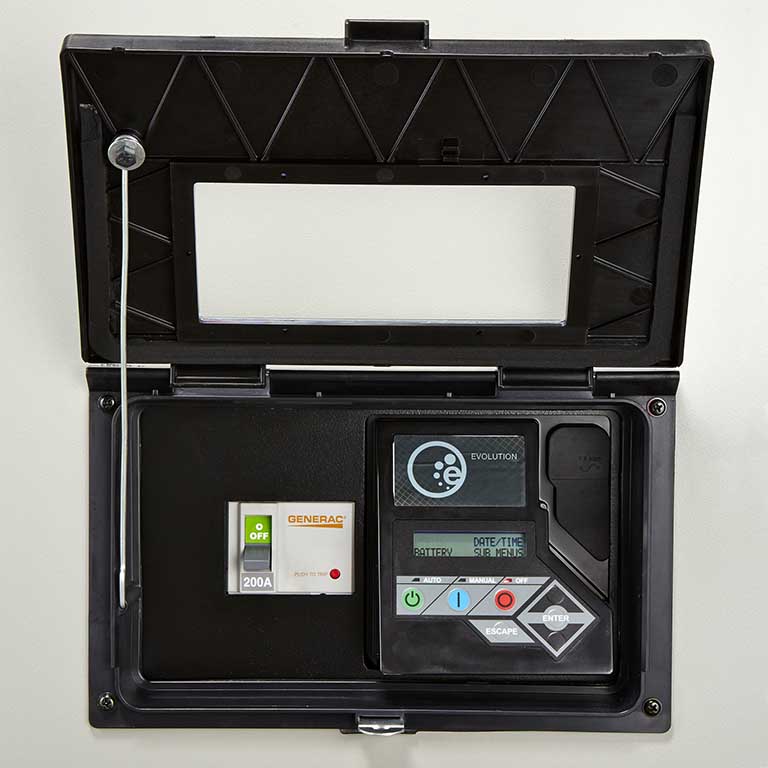 Additional Features
Improved stub ups and electrical connection access decrease installation costs. All connections are dual conductor rated, and the implementation of quick connects for the control wires, completely eliminates the need for crimping or lugging.
Improved customer connection access, which decreases installation costs.